JewishFriendfinder.com reviews | Jewish Friendfinder reviewed
JewishFriendfinder.com Statistics
Site URL: http://www.jewishfriendfinder.com

Website located: USA
Alexa Rank: N/A
Market: Traditional Dating / Matchmaking / Religion specific dating
Countries Served: Worldwide
Price: From free to $35 (variable discounts for longer term membership)
Facebook App: No
Android App: No
Mobile Version: No
JewishFriendfinder.com Overview
Part of the massive FriendFinder network JewishFriendFinder.com is fast becoming the largest online Jewish dating personals site with over 200,000 active registered members. This site is targeted toward Jewish singles looking for love, romance, and marriage or just friendship within a community of like-minded people.
Joining JewishFriendfinder.com is quick and easy and you don't even need to give your email address to browse the site, although if you want to see more detail, profiles, create your own and communicate with other singles, you'll have to register – which is free.
Besides the now standard e-dating features, JewishFriendFinder.com offers a blog section where you can post, video-chat and a magazine created by and for its members.
Other Friendfinder Sites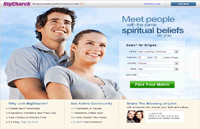 See below for consumer reviews of JewishFriendFinder.com
Disclaimer:
While we make every effort to ensure the accuracy and reliability of our information at DatingConsumer.com we shall not be held responsible for any discrepancy where information provided here is outdated or wrong. Please check the dating service for the most recent information.